Our 2021 Ecoprint calendar, Protecting the Natural Beauty of the Chesapeake Bay, has given us the opportunity to work with 13 different organizations, all dedicated to helping solve the environmental challenges in this important ecological hub. November features the Chesapeake Climate Action Network (CCAN), a grassroots nonprofit that fights global warming in DC, Maryland, and Virginia.
If there is one thing that every human being should be concerned about, it is rising sea levels. According to a study conducted by Climate Central, land that is now home to 300 million people will fall below flood level by 2050. This research, as well as another study, shows the direct correlation between human activity and rising sea levels. Fortunately, the Chesapeake Climate Action Network is working day and night to prevent this possibility from becoming reality.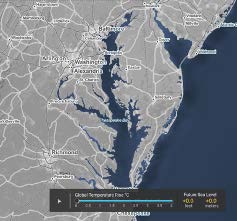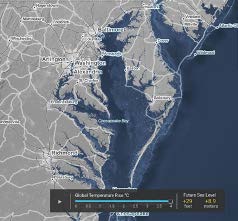 What does the Chesapeake Climate Action Network do?
CCAN champions powerful grassroots movements that push for laws that prioritize the nation's climate stability. A crucial part of climate stability is reducing global warming, which is the leading cause of rising sea levels.
Protecting the watershed ecosystem through legislation
The rising sea levels in the Chesapeake Bay watershed are mainly caused by industrial activities, which are a leading source of fumes that increase global warming. In short, humans are responsible for the Bay's condition and challenges. But the Chesapeake Climate Action Network has pushed for policy change that has helped keep the Bay's water levels "normal" for years.
Mobilizing the world to action
The Chesapeake Climate Action Network strongly believes in the power of numbers. Over the last 18 years, CCAN has mobilized thousands of environmental warriors. This network stretches beyond the United States and works to spread climate research, educate populations, and affect change.
Saving more than 20 million livelihoods
The Chesapeake Bay supports the livelihoods of over 20 million people. Without CCAN's efforts over the last nearly two decades, the rising sea levels might have destroyed everything around the Bay. Luckily, the rising sea levels have slowed down, and as a result, people can still call the Bay home and a place to work.
---
The Chesapeake Climate Action Network began as one-man's idea, but now it is a global movement. CCAN's mission is to fight global warming and rising sea levels, especially in the Chesapeake Bay. Looking at their achievements thus far, it's clear that they are doing important work that makes a difference for all of us.
Sustainably,
Bobby Firestein
P.S. To learn more about our 2021 Calendars as well as our environmental contributors, click here.
---
Chesapeake Climate Action Network
History
The Chesapeake Climate Action Network was founded by Mike Tidwell, a long-time journalist dedicated to creating a regional grassroots organization committed to climate action. CCAN officially launched on July 1, 2002 with a seed grant from the Rockefeller Brothers Fund.
Working with a large and growing network of allies, the group has helped pass strong renewable electricity laws for 50% in Maryland and 100% in both Virginia and Washington, DC. Through litigation, CCAN has helped reduce mercury pollution from a coal plant in Wise County by 94%, forced the clean up of three coal ash dump sites in Maryland, and delayed construction of two massive fracked-gas pipelines in Virginia. It has also helped pass a landmark bill to ban fracking in Maryland, as well as one of the strongest statewide carbon caps in the country.
Mission
Chesapeake Climate Action Network's mission is to build a diverse movement powerful enough to put the national capital region on the path to climate stability, while using their proximity to the nation's capital to inspire action in neighboring states, around the country, and across the world.