Marketers looking for inexpensive, durable outdoor signage often turn to Coroplast, a popular substrate used for everything from event signage to political yard signs.
Made of corrugated plastic, Coroplast is inexpensive and strong. While it is recyclable, it doesn't present an Earth-friendly image. Less than 10% of plastic is recycled, and with the remainder either ending up in a landfill or being incinerated (a process that releases toxic gases into the atmosphere), using Coroplast or other plastic signage sends a negative environmental message.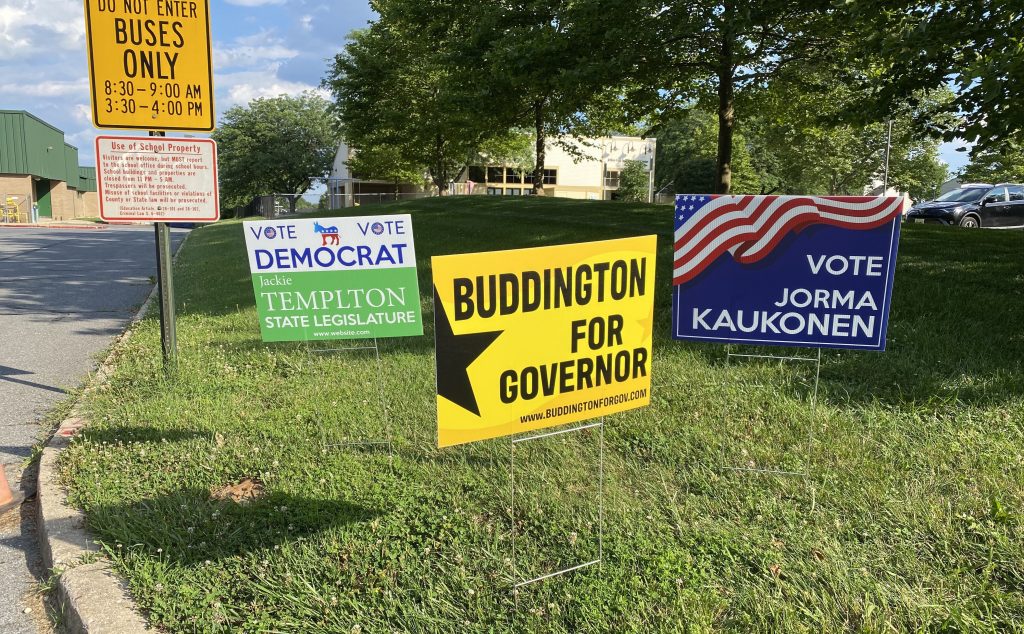 If your customers are among the more than two-thirds of U.S. consumers looking for brands that are sustainable or eco-friendly, you might want to consider an earth friendly alternative.
At Ecoprint, we have been testing a paper-based alternative called Aqua-Rite. Aqua-Rite paperboard is a double-side coated, triple bleached, corrugated material available in F, E, B and C Flute. It is 100% recyclable and outdoor-rated for up to 90 days. Like plastic, it can take a beating, including exposure to the elements, while making a strong positive environmental statement.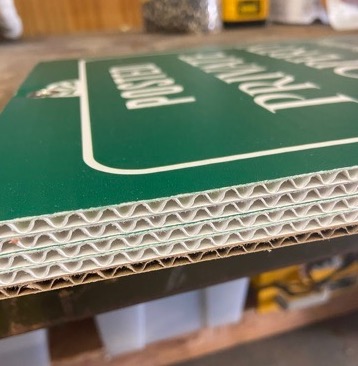 These characteristics make Aqua-Rite perfect for a variety of uses, including:
Large and small outdoor signage
Outdoor real estate and political signs
Drive-through signage
Outdoor golf course and sporting event signs
Gas station, convenience, and retail store baluster covers
Any manufacturer will tell you that their product will hold up to the elements, but then you print your signage on it and it's melting after 30 days. Rather than take the supplier's word for it, we decided to test Aqua-Rite ourselves to see how the material performed.
We took home several yard signs printed on Aqua-Rite and stuck them in the backyard, (so many, in fact, that it now qualifies as an "Ecoprint Habitat"). The outcome? Aqua-Rite holds up extremely well. It has not only withstood the full 90 days in all types of weather, but it has lasted well over 120 days.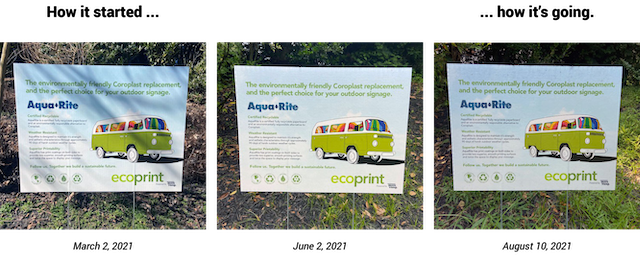 We are testing a variety of other sustainable signage options as well, including Aqua-Rite's sister product, Digi-Rite, a high-quality alternative to foam core. It is designed for applications that need perfectly smooth sheets for higher quality graphics for interior applications.
Are you ready to explore an alternative to traditional corrugated plastic signage? We might have just what you need.
Sustainably,
Bobby Firestein