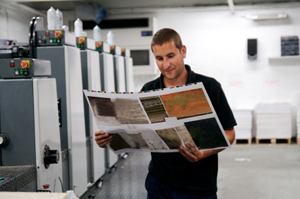 With humble beginnings in 1977, the first Ecoprint shop was housed by a reconverted school bus (the campaign vehicle for an environmental nonprofit) with a small press bolted to the floor. In addition to printing their own materials, the mobile shop printed flyers for local environmental and nonprofit organizations in Washington, DC.
When the organization closed in 1983, the shop moved to its own space in Silver Spring, becoming an independent entity, but never forgetting its roots!
In November 2013, Ecoprint merged with Sveconway - a local, family-owned printer. Still operating under the name "Ecoprint," the combined entity retains its mission to lead the paper and printing industries to a higher standard of sustainability. Expanded capabilities now provide a complete printing, design and distribution solution.