Suffering From Postal Anxiety?
Relax! Here are some tips on what's happening at the USPS and what you need to know to optimize your next mailing.
This year's postal rates increased the cost of a stamp by three cents. Bulk mailing ("Standard" class) increased about six percent, theoretically fixed for two years. The good news for nonprofits is that they still get exceptional rates, especially for letter sized mail.
New Rates as of January 26, 2014
Note: New rates are still being weighed by the courts, and could be temporary, but for now, they seem to be sticking.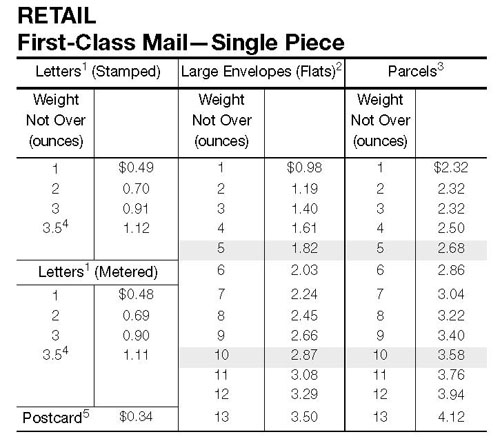 Key:
1 -Letter size max is 6.125" x 11.5"
2 -Flat size max is 12" x 15"
3 -Parcels are envelopes that are rigid, nonrectangular, or not uniformly thick
4 -If over 3.5 oz, use Flat pricing
5 - Postcard size max is 4.25" x 6" and is .007" to .016" thick
Presorted First Class Letters (using bulk permit): Save between $.03 - $.08 each piece off retail rates. Still travels at First Class speed, however.
Standard ("Bulk") Mail - Basic Automated Rates (barcoded, presorted), up to 3.3 oz per piece.
Commercial Standard Letters - $.301 Flats - $.553
Nonprofit Standard Letters - $.183 Flats - $.404
Note that Standard mail rates drop for 3- and 5-digit zip code segments, so your overall cost per piece is almost always a cent or two less than the base rates above.
Foreign Mail: Rates have crept up 5-9%.
How to Avoid a Spike in Postage
Are there additional mailing regulations to worry about? Yes, many persnickety rules to consider (too many to mention here) but here are a few things that may trigger an unnecessary upcharge:
Square or nearly square-shaped pieces

A rigid item, e.g., mailing a DVD (because it cannot bend when coursing through USPS mailing machines)

Pieces that are too thick or too thin

Pieces that exceed the maximum height, width, or weight for the selected class of mail

Showing a return address that doesn't match the nonprofit authorization on file

Crowding the barcode on the mail panel (allow 3.5" minimum side to side)

Failing to be tabbed (wafer sealed on the edges). This requirement varies depending upon format.

A stapled (saddle stitched) publication subsequently folded in half (new rules apply--ask us)
TIP: If you are designing a mail piece that you rarely (if ever) see delivered to your own mailbox, take heed! There's a good chance you don't see similar designs or shapes because rates and regulations make them uneconomical.
And Finally.....
One Last Postal Change (We're NOT Kidding)
Another new USPS rule, effective December 26, 2013:
"We revised 601.12.0 to require mailers to use only Priority Mail Express ™ service when shipping cremated remains."
Be advised!